I didn't post this originally but I finished it in the early to middle of October. Working on some other miniatures right now and just thought I'd share this older one with you.
I was inspired to start work on the interior of the space with my other miniature potion shop door as inspiration. I really wanted to stay with the natural feel of things and keep it looking rustic so I utilized as many natural materials as possible, keeping the construction of the furniture to found twigs (mostly Pine and Silver Maple found on the ground). The first interior piece I created was a large witch's workbench with ample shelving above it for bottles and herbs and plants. This is a space I would die for! There's tons of room for crafty spell working and storage. What a clever and small witch must live here. I also added some more whimsical potion ingredients in there, such as "Moondust", "Golden Sunshine", "Mermaid's breath", "Worms" and "Dragon's blood"....
Everything is sculpted using polymer clay and the only premade miniatures were the glass bottles. I guess I didn't make the beads either, but I glued them together with suuuuch finesse :P . The beads are a mix of glass, shell, and plastic. I made more things for this setup such as a small grimoire but I didn't want it to be too crazy, plus I can use them for other miniatures. Also, I'm terribly exhausted. If I miss anything, let me know! Apologies for the lackluster photos.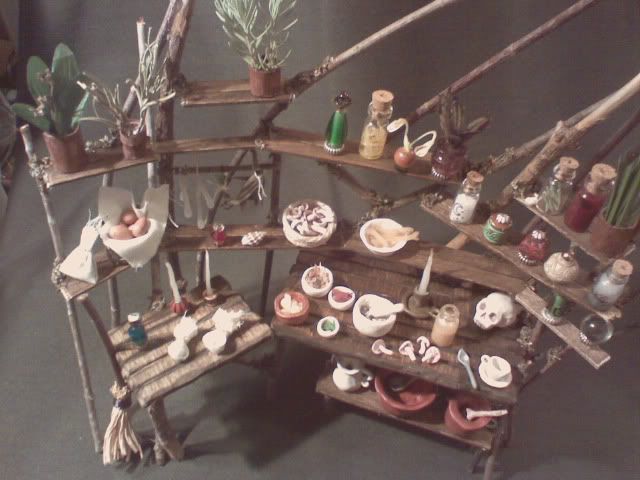 Starting from the left side of the crafty work space... There is a small broom made with raffia and a Silver Maple twig wrapped with black wire. The shelf below holds a pitcher and two copper pots, one containing a ladle and the other a wooden spoon. A small handwoven basket made from scrapbook paper filled with small eggs sits on the upper shelf. There are several real candles in the picture, hand dipped by me, as well as some potted plants. The top left plant is pieces yanked from silk flowers, then to the right of that is actual Rosemary in the small pot, and to the right of that is Lavender. The rest of the plants are silk. There's also small muslin bags full of herbs as well. And a dinky seashell. There's a basket filled with mushrooms and another filled with bones.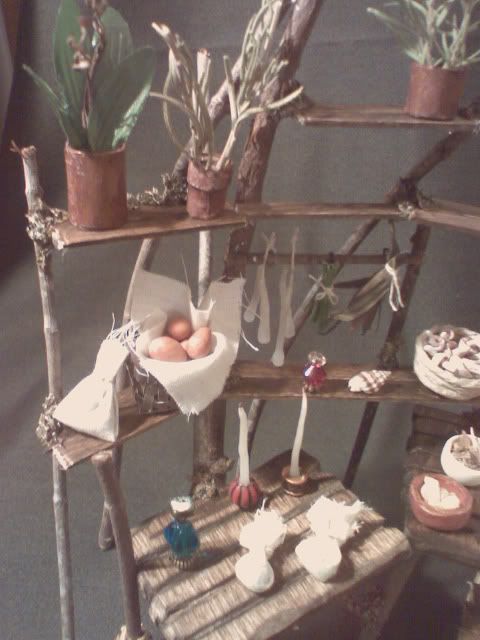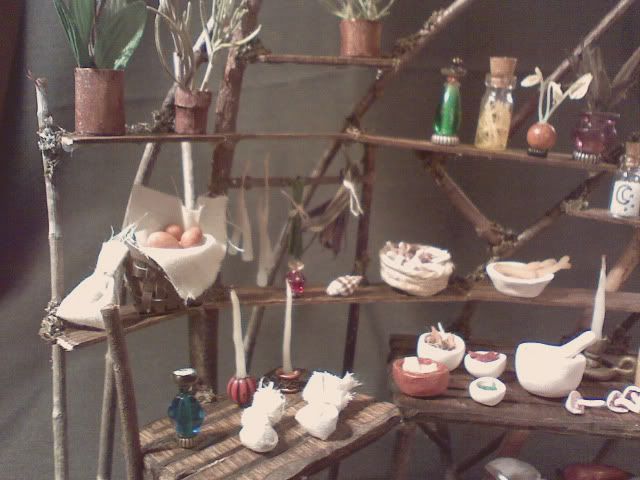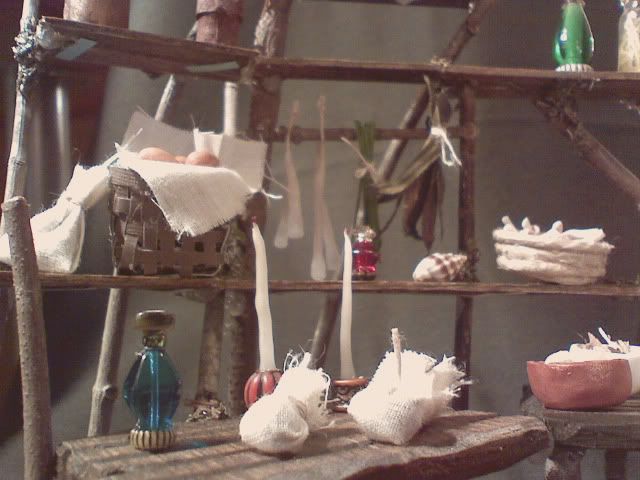 In the center... There are more bottles filled with oils and herbs and other goodies. You also get a better view of the basket of mushrooms and bowl of bones. On this little witches desk space there is a mortar and pestle filled with Lavender flowers. The copper colored bowl is filled with Frankinsense resin, the bowl above it with the more brown herb is filled with Witch Hazel. The red contents of the bowl next to it is Red Sandalwood and the small bowl below it is filled with Spearmint. There's an open bottle of "golden sunshine" and more mushrooms as well as a candlestick. You can also see the bitsy skull in these pictures.
Oh! I nearly forgot about her little teacup! I imagine it's filled with Jasmine tea being that I'm quite partial to it myself ;)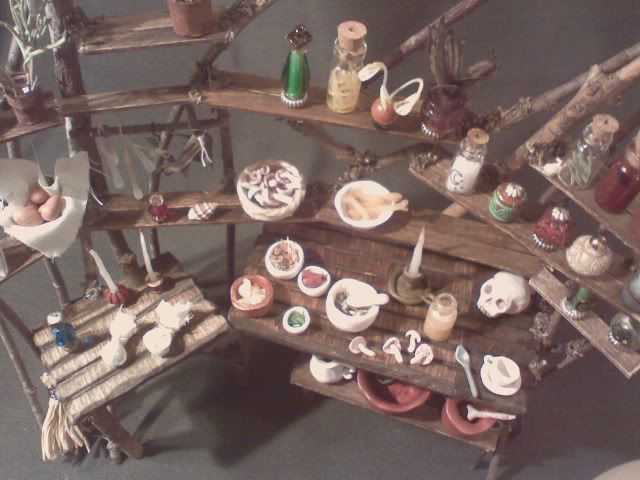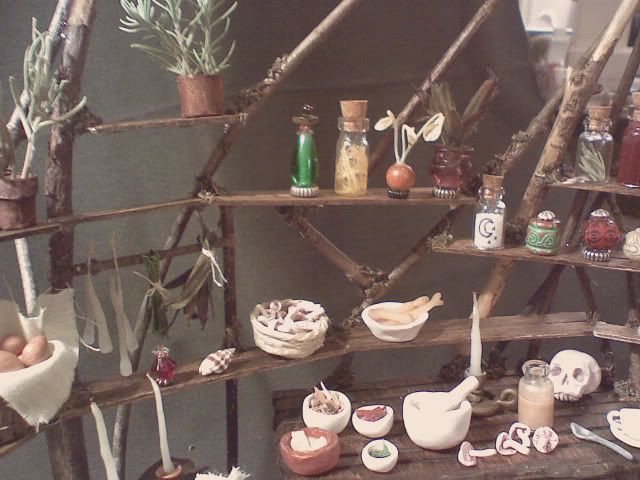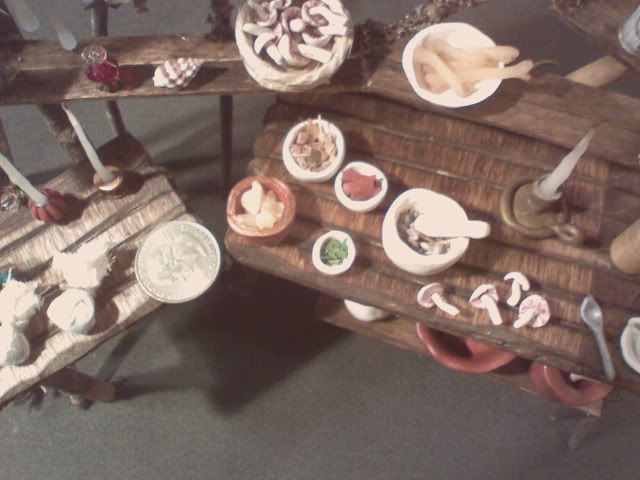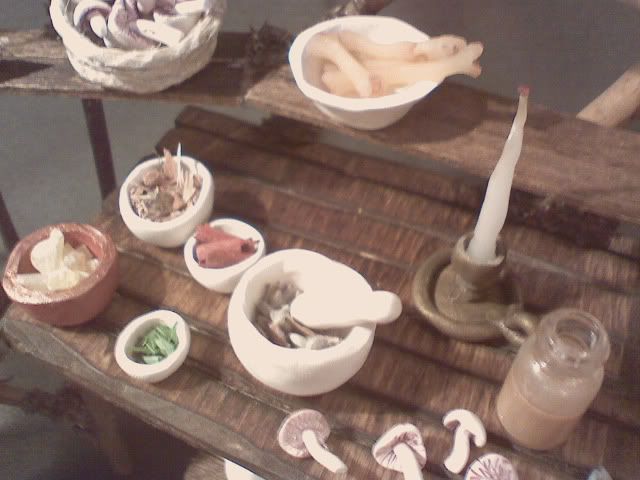 And the far right... top shelf bottles are Lavender and "Dragon's Blood" as well as a grassy type plant. The second shelf has "Moondust", three lovely jars filled with assorted things, and a glass bottle filled with "Mermaid's Breath". There is also a crystal ball and another lovely green bottle.